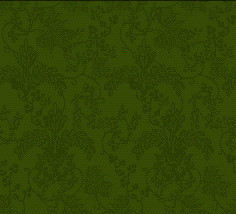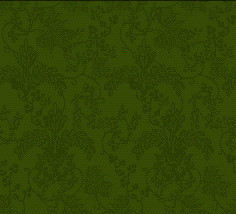 Elizabeth Ward, horn, received a Bachelor of Arts degree fromthe University of Washington and a Master of Musical Arts degree from Yale School of Music.  Ms Ward is a former member of the New Haven Symphony, Pennsylvania Ballet Orchestra, Pennsylvania Orchestra, Philadelphia Opera Orchestra and Young Audiences Inc., of Philadelphia. Returning to the Northwest, Ms Ward founded the Evergreen Brass Quintet.  The Quintet is well known for its' educational programs and is a part of the Washington State Arts Commissions' "Arts In Education" and Arts Network of Washington,"Rural Residency" programs.

Dan Schmidt, trumpet, has degrees from the University of Nebraska, University of Northern Colorado, and the Cincinnati-Conservatory of Music. Dan spent twenty years in the USAF as a solo cornetist and then Band Commander; after retiring he taught thirteen years on the college level as a band director and trumpet teacher. He has performed with the Los Angeles Philharmonic, the San Antonio Symphony, and the Israel Philharmonic. Additionally he held principal trumpet positions with the Breckenridge Chamber Orchestra, the Breckenridge Brass, in Colorado; the Omaha Symphony and Lincoln Symphony Orchestras in Nebraska. Dan is a founding member of the Evergreen Brass.

William Branvold, trombone, holds a Bachelor of Music degree from the University of Tulsa School of Music and a Master of Music degree from Boston University's School for the Arts. While in Tulsa he performed as Second/Assistant Principal trombone with the Tulsa Philharmonic. While in Boston he performed with Boston Civic Symphony, North Shore Philharmonic, principal trombone; Opera Company of Boston, extra trombone.  In the Seattle area he performs with Bellevue Philharmonic, principal trombone; Village Theatre, Past performances include 5th Avenue Theatre and Civic Light Opera.  Bill is a returning member of the Evergreen Brass Quintet.  His teachers include Forrest Bedke, Vernon Howard, Glen Walant, and Ronald Barron. 


Meet The Evergreen Brass Quintet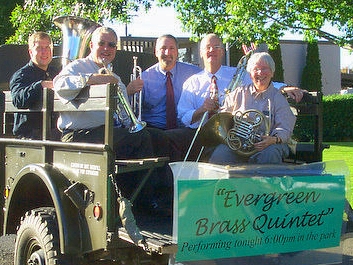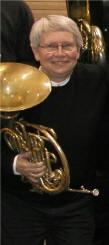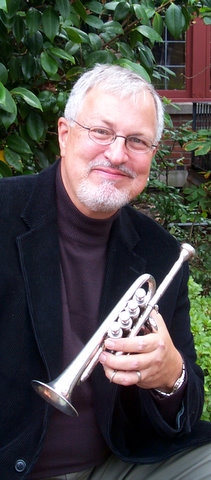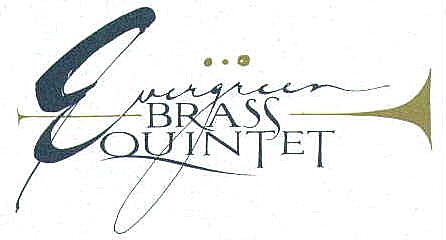 Ivan Giddings, tuba, earned a Master of Music degree in tuba performance from Pennsylvania State University, and is a tuba teacher and performer by trade. Teaching at the University of Puget Sound Community music department, a full time private low brass studio, and performing in numerous ensembles in the Puget Sound area. In his efforts to improve response, articulation, and overall ease of playing he was led to mouthpiece design, along with instrument repair and modification. The teachers that have most influenced Ivan are Robert Harold, Rex Turner, Marty Erickson, and Arnold Jacobs.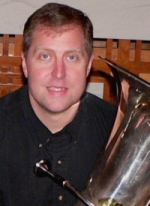 Georege Steward, trumpet, George Steward earned a Bachelor of Music at Wheaton Conservatory           of Music and a Master of Music at Yale School of Music.     He has been principal trumpet in Elmhurst Symphony (IL), New Philharmonic Orchestra (IL), and Evergreen City Ballet, and assistant principal in Elgin Symphony (IL), Eastern Connecticut Symphony, and Bellevue Philharmonic. George is currently principal trumpet in Everett Philharmonic, Cascade Symphony, and Octava Chamber Orchestra. He is also a member of Brass Reflections as well as the Evergreen Brass Quintet. George has soloed with a number of ensembles nationwide. Locally he has been soloist with Brass Band Northwest, Boeing Employees Concert Band, Cascade Symphony, Everett Symphony, Skagit Symphony, Sammamish Symphony, Northwest Wind Symphony, and Octava Chamber Orchestra. George enjoys playing the national anthem for a number of local sports teams, along with musical theater, as well as occasional solo recitals. He teaches private students at his home studio in Lynnwood, and Spotlight Studios in Woodinville.